Smuggling debts lead Chinese migrants to rape and prostitution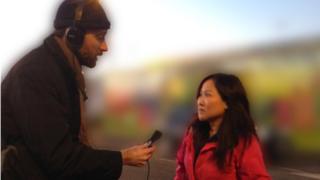 An investigation into Northern Ireland's sex trade has revealed Asian migrants are drawn in due to people's smuggling debts.
'Fay' has spoken about being held captive by traffickers and repeatedly raped in a Londonderry brothel.
'Lynne' knowingly turned to prostitution under pressure of a £50,000 people smuggling debt.
Lisa recruits Asian sex workers for her Belfast brothel through classified adverts in Chinese language newspapers.
Recognised victim
'Fay' was recognised as a victim of trafficking after being rescued from a brothel in Derry by the PSNI in 2009.
She has broken her six year silence to speak exclusively to BBC News NI.
She said she came to Northern Ireland for a job organised by Snakehead, a gang of people traffickers, to whom she owed £20,000 for arranging her travel to the UK. They'd previously organised some child minding jobs for her.
She spoke to her new employer on the phone, and agreed she would work as a child minder for him.
Duped, then raped
When she arrived she discovered there were no children. She saw other women in the house but wasn't allowed to talk to them. She now suspects they were sex workers.
She was kept in a locked room.
After some days she alleges she was raped by a policeman. She felt helpless, and unable to turn to the police for help.
The brothel was run by a woman called Rong Chen.
From then on, Fay says Chen threatened her, and made her have sex with customers.
She said: "She was quite fierce. She said I need to return money to her."
She recalls being raped by about 10 more men over the following two months.
Chen
Chen was convicted of running five brothels in Northern Ireland, including the Derry brothel in which Fay and three other women were found. She was sentenced to seven years for trafficking and served three and a half. She is now fighting deportation proceedings.
Chen's husband Jason Hinton was convicted of aiding and abetting the control of prostitution and served 220 hours of community service.
No one was ever convicted of raping Fay. The other three victims are thought to have returned to China.
Chen was released on immigration bail from Yarl's Wood immigration Detention centre last year while she fights deportation.
She and Hinton live together in Kidderminster, Worcestershire.
When approached by the BBC, Chen refused to comment, but Hinton swore at, and pushed our reporter.
Excuse
He later calmed down and claimed his wife was just a housekeeper at the brothel. He said she had worked there for a year, commuting from Kidderminster to Belfast, before he became aware that she was working in a brothel.
He remains unrepentant, maintaining that the four women rescued from the brothel, had been willing participants in sex work, and had lied to claim asylum and benefits.
After weighing all the evidence, Justice Stephens specifically stated, during Chen's sentencing, that all four victims "had not been prostitutes and none of them had worked in brothels."
Fay no longer has family in China, and has lost touch with her only daughter.
"I don't have anybody there. Why should I go back?" she said.
Her permission to stay in the UK expires next year.
She still needs psychological support and said: "I feel like I've been in jail for six years."
Lynne
A Chinese Belfast-based sex worker, 'Lynne', spoke exclusively to the BBC, saying she had come to Belfast from London after seeing adverts, which still appear regularly in the UK Chinese Times and other newspapers.
When she first arrived in the UK, Lynne worked in the kitchens of London's Chinese restaurants. She was paid between £3.50 and £6 per hour, less than the legal minimum wage.
Lynne told the BBC: "Most people from China are in debt when they come here. My loans were 400,000-500,000RMB." (£40,000-£50,000)
After her student visa expired she became worried about frequent immigration enforcement raids carried out in London's Chinese restaurants.
She had never considered sex work before arriving in London but heard rumours it paid well. After a year in the city she replied to an advert recruiting sex workers the free Chinese newspapers. She moved to Belfast and started selling sex for the brothel keeper.
She said: "Many Chinese women can't find work. So they do this work. It requires low skill level, and if you can't speak much English, you can get others to answer the phone for you."
Independent
A few months later she was assaulted by a client and left the brothel.
Undocumented migrant sex workers are prone to physical assaults and robberies because assailants know the victims cannot turn to the police for help.
She now works independently from a rented terrace house in South Belfast.
She said: "I earn £600-700 per week. My rent is £500 a month.
"I was on a student visa, and have been in the UK for almost two years. I overstayed. But I haven't had problems with the police. They leave me alone."
She told the BBC she plans to work for a couple of years until her debts are paid, and then wants to return China. She has a child in China.
She says she has no regrets about coming to the UK.
With her expired student visa she has no legal right to remain in the UK but because she works alone, and from home, her sex work does not currently break any UK laws.
New laws
From June, new legislation in Northern Ireland will criminalise her clients.
Detective Sergeant Jonas Henriksson is from the Prostitution Unit of the Stockholm County Police in Sweden, where the purchase of sex has been a crime since 1999.
He said of the law: "It's one of our most important tools against human trafficking. We also offer shelters, support from social services, and so on."
Some academic research suggests criminalising the purchase of sex decreases the safety of the most vulnerable sex workers. Clients demand anonymity, so cannot be traced after an assault. The Cambridge University research, carried out in Sweden, by Dr Jay Levy also suggests it encourages police to target migrant sex workers.
Lisa
Lisa was revealed to be recruiting women to sell sex in Belfast by a BBC News NI undercover investigation.
She told an undercover researcher she keeps half the earnings of the women that work for her.
When confronted said she was "trying to help" the women.
She responded to the claims she made on the phone saying "it's a wrong number", and "I think your hearing is wrong".
Trafficking
Detective Superintendent Noel Mullen is the lead for human trafficking in the Police Service of Northern Ireland (PSNI). Defining the crime of trafficking he said: "This is about moving individuals with the intention of exploiting them. To do that they'll use threats, force, coerce or dupe their victims."
The Department of Justice for Northern Ireland said traffickers can be prosecuted for recruitment into exploitation under the new Human Trafficking and Exploitation Act.
It is unclear if financial coercion to repay smugglers would be considered by the UK Visa and Immigration service when they decide if a victim has been trafficked or not.
The full story is can be heard in a BBC Radio Ulster documentary Vice Girl or Victim? broadcast on Sunday at 12:30 GMT and on the iPlayer. It will be be repeated on BBC Ulster on Thursday, February 19 at 19:30.