Oisin McGrath: Belcoo schoolboy's organs to help five people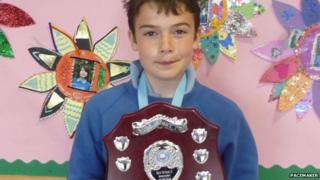 The organs of teenager Oisin McGrath, who died after an incident at his Enniskillen school, will be used to help five people, a priest has said.
The 13-year-old schoolboy from Belcoo died at Belfast's Royal Victoria Hospital on Thursday.
Fr Seamus Quinn spoke with Oisin's mother Sharon after his life support had been switched off.
"She told me Oisin's organs were being used to give life to no less than five people," he said.
"It's another traumatic move in this whole nightmare that Nigel and Sharon and their two girls just can't waken up from. But they're being very strong, they're being incredibly strong in the middle of it all."
He said they were a "deeply Christian family".
"I was present at a most heart-rending, but sort of uplifting, experience the previous day when I was praying with Oisin and the whole extended family trooped into the little room to say their own prayers," he said.
"It was heart-rending, it was unique and it was uplifting and that's the sort of people that they are and Oisin was a lovely lad himself."
He added: "It's a terrible tragedy for the family. Their next awful hurdle is when they come back to the house they left on Monday."
On Friday evening, Oisin's body was brought back to his hometown of Belcoo.
People lined the streets as the cortege slowly made its way through the village.
Northern Ireland First Minister Peter Robinson, Fermanagh and South Tyrone MP Michelle Gildernew and Education Minister John O'Dowd were among several politicians who sent messages of sympathy to the family.
Oisin was taken to hospital after an incident at St Michael's College, Enniskillen, on Monday afternoon.
A 17-year-old boy, a sixth former at the school, was detained following the incident. He was later released on bail pending further inquiries.
St Michael's College will be closed in terms of classes on Friday, but counsellors will be available at the school to support those dealing with the teenager's death.
The school released a statement on Wednesday.
"A group of students were playing at lunchtime when one student became unwell and we sought medical assistance," it said.
"He was taken by ambulance to the South West Acute Hospital for medical help."
As news of Oisin's death broke on Thursday evening, First Minister Peter Robinson tweeted that it was "heartbreaking".
"I'll be praying for his family and all those devastated by this sad news," he said.
'Pleasant, cheerful young boy'
Monsignor Joseph McGuinness, chair of the board of governors at St Michael's College, said everyone at the school was "deeply shocked and saddened" by his death.
"Throughout the week, there has been a great sense of shock and atmosphere of great sadness among staff and students," he said.
"Oisin was a lovely boy, he was full of energy and life. To see such a great youthful energy and talent cut-off is just heartbreaking."
The chaplain at St Michael's, Rev Macartan McQuaid, said the atmosphere in the school was one of great sadness and enormous loss.
"He was an only son, a bright, pleasant, cheerful young boy," he said.
"Our hearts go out to his parents and two young sisters. It is a day of great sadness and loss and grief in the school.
"They are numbed. It must be an almost unbearable grief to accept what has happened."
In a statement, Martin McAviney, the president of the GAA in Ulster, said: "On behalf of the entire GAA in Ulster I want to express my sincere and deepest condolences to Oisin's family, friends and the members of Belcoo GAA.
"The tragic passing of someone so young should act as a reminder to all of us that life is precious and should not be taken for granted."
A notice on the St Michael's College website said it would be closed on Friday "in the light of the tragic events this week and the impact on the school community".
Police sent their sympathy to the family and friends of Oisin at what they said was "a very sad time".
A spokesperson said inquiries were ongoing to establish the circumstances surrounding the death. Police have appealed to anyone with information to come forward.