Foyle Election Centre choice 'flawed and risky'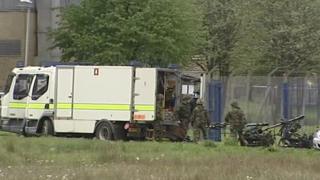 A decision to stage an election count in a Londonderry centre targeted in a bomb attack at the last election is flawed and risky, an MP has said.
Gregory Campbell, DUP, said he did not want a repeat of the disruption at the 2010 count at Templemore Sports Centre.
Counting at the Foyle and East Londonderry centre was suspended for an hour and a half after a pipe bomb was left outside.
The centre was evacuated and the Army carried out a controlled explosion.
Earlier, dissident republicans had hijacked a taxi and a gun was put to the driver's head. He was told to bring the pipe bomb to the count.
Mr Campbell said using the same centre posed a risk to staff and could disrupt an important count.
"Due to the uncertainty of the general election result, the rest of the UK will be keeping a close eye on results here in Northern Ireland," he said.
"We do not want this sort of disruption to be repeated again. Steps must be taken to avoid this happening."
But the chief electoral officer, Graham Shields, said there would be increased security.
Mr Shields said he had contacted Derry City Council some time ago to consider relocating the count venue for Foyle and East Londonderry to the Foyle Arena in St Columb's Park in the city's Waterside.
"Unfortunately, the council advised that the new building would be unavailable to host such an event so soon after the hand-over from the contractor, due to outstanding risk assessment/health and safety issues which would still have to be completed."
He said that Templemore leisure centre was used in 2014 for the local council count and, with the added security measures in place, this ran successfully and without any unnecessary interruption.
"The safety of the electoral staff and anyone who attends the count centre is of paramount importance and preparations for all necessary security measures are well under way," he said.