Mike Nesbitt hopes for unionist pact talks with Peter Robinson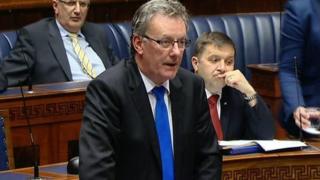 The Ulster Unionist leader Mike Nesbitt says he hopes to meet the DUP Leader Peter Robinson to discuss unionist pacts for the Westminster election.
This week the DUP and the UUP indicated they will fight each other in South and East Belfast.
Mr Nesbitt says none of his party's candidates are confirmed and he believes there are strong reasons why unionists should co-operate.
Otherwise he said Belfast could have no unionist MPs.
"Without a deal, without an understanding there is a real prospect there could be no unionist representing the capital city of Northern Ireland in Westminster on the 8th May," he said.
"With a deal, who knows? Maybe three of the four could be unionist but they can't all be DUP."
You can hear that interview with Mike Nesbitt in full on Inside Politics at 18:00 GMT on BBC Radio Ulster.