Alban Maginness SDLP offices in north Belfast targeted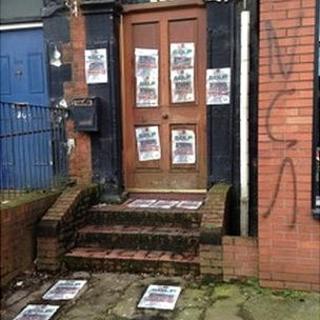 Graffiti, including anti National Crime Agency (NCA) slogans, has been painted on the offices of SDLP North Belfast assembly member Alban Maginness.
Posters were also put up on the building on the Antrim Road. The discovery was made on Saturday morning.
Police said a number of posters had been pasted at the doorway of the premises and a slogan sprayed onto a window.
Mr Maginness said other buildings nearby had also been defaced.
"I arrived down, not only to find graffiti on my office, but on the premises next door and some flats further up, all of course aimed at the SDLP for our support for the National Crime Agency," he said.
"I can understand if people want to express a point of view and I don't object to that, but I do object to defacing the front of our office."
Assembly members voted to extend the National Crime Agency's powers to Northern Ireland earlier this month after the SDLP changed its position and supported it.
The SDLP and Sinn Féin originally opposed the NCA's extension because of concerns over the agency's accountability.
However, the SDLP said that a series of new measures proposed by the UK government meant they could back its full introduction in Northern Ireland.