Peter Robinson: Corporation tax cut 'much more doable'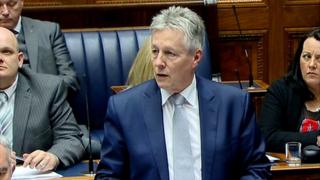 First Minister Peter Robinson has said he believes cutting Northern Ireland's corporation tax rate has become "much more doable" based on new figures.
The DUP is pushing for a new rate to be agreed quickly by the executive.
Speaking in the assembly, Mr Robinson said reductions to the block grant to pay for reducing corporation tax would be gradual.
The legislation that would allow corporation tax powers to be devolved to Stormont was published last month.
The government aims to pass the law before May's general election. Labour says it will not oppose the bill.
It should allow Northern Ireland to set its own rate from April 2017.
"It is now clear that this will be phased in over three years, with a likely reduction from our block grant of between £100m and £150m in the first year," Mr Robinson said.
"That makes it much more doable. We would not be facing the final and larger figure until about 2019 or 2020."
The devolution of powers to set the corporation tax rate was a key demand of political leaders ahead of the Stormont House Agreement.
Corporation tax is a tax on the profits made by companies.
The current rate paid by businesses in Northern Ireland is 21%, compared to 12.5% in the Republic of Ireland.
The executive wants to be able to match the tax rate in the Republic of Ireland.