St Anthony's, Willowfield: Sectarian graffiti daubed on East Belfast church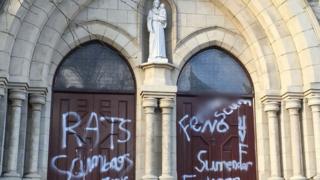 Sectarian graffiti has been daubed on a Catholic church in east Belfast.
Slogans supporting the Ulster Volunteer Force were posted on the doors of St Anthony's Church in Willowfield.
It is believed the attack happened overnight. Police have said they are treating the incident as a hate crime and have appealed for information.
On Sunday, a memorial garden commemorating IRA murder victims was vandalised in east Belfast.
A union flag was ripped down and flower pots were broken at the memorial on the Newtownards Road on Sunday night.
Those commemorated at the garden include James McCurrie and Robert Neill, who were shot and killed by the IRA in nearby streets on 27 June 1970.
Condemning the church attack, the DUP's Jimmy Spratt said: "This was a disgraceful attack on a place of worship which will appal all right thinking people. Unfortunately it may have come in response to another sectarian attack on the Newtownards Road over the weekend.
"It is vital that we all stand against the kind of thugs who would engage in such behaviour. I hope that they are identified and face the full weight of the law."