Derry estate alert: Bomb was designed to kill say police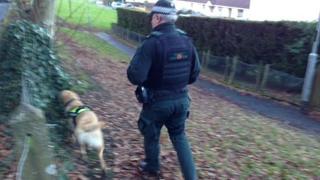 A bomb found during a security alert in Londonderry was "designed to kill", police have said.
Officers began searching the Currynierin estate on Monday, after they received phone calls claiming an explosive device had been left in a laneway.
Some residents had to be moved out of their homes overnight and some roads were closed.
Full access to the estate has since been restored.
Residents of Conway Park have been allowed to return to their homes, but the Ardmore Road entrance to the estate remains closed.
Supt Mark McEwan said examinations of the scene were still continuing and that it was "too early to say" what type of bomb officers were dealing with.
However, he said police believed the bomb was intended to kill officers and that those who had left it showed a "callous disregard for the safety of the community and police officers".
Secretary of State Theresa Villiers said those responsible were "beyond contempt".
"They have no regard for the safety of police officers, or for the welfare of the community, including elderly residents, children and workers, simply going about their daily lives," she said.
"Incidents like these inflict huge disruption and stress on local people."
The PSNI area commander, Ch Insp Tony Callaghan said: "Those who left this device have shown callous disregard for the safety of the local community and the police officers serving this community. We are extremely fortunate that no one was killed or seriously injured.
"I would like to take this opportunity to thank everyone for their patience. I understand that such disruption can be extremely frustrating and unsettling for everyone, however the time taken to make the device and the area safe was unavoidable."
'Nonsensical activity'
The DUP's Gregory Campbell said every time there was a bomb alert in the north west, bomb disposal officers have to be dispatched from the east of Northern Ireland with up to a two-hour travel time.
"If they were based in the north west they could have been on site in Londonderry last night within 15 minutes," he said.
Deputy First Minister Martin McGuinness said the people behind the alert needed to stop their "nonsensical activity".
The Police Federation of Northern Ireland (PFNI) have condemned the attempted attack as both "reckless and pointless".