Newry, Mourne and Down: Shadow council's 'Irish first' decision criticised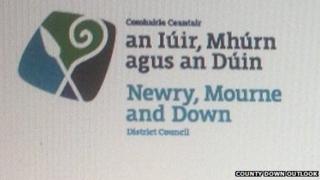 A decision by Newry, Mourne and Down district shadow council to place Irish above English on its signage has been criticised by unionists.
Councillors ruled in favour of proposals placing Irish first on council logos, literature and vehicles at a committee meeting last week.
DUP MLA Nelson McCausland described the decision as "culturally sectarian" on the BBC's Nolan Show.
In response, SDLP MLA Dominic Bradley said it was an "issue of equality".
'Domination'
Mr McCausland said the decision was an "attempt to assert the dominance of a particular community" in the Newry, Mourne and Down areas.
"In some areas, people paint kerbstones to lay claim to a particular piece of territory," he said.
"Sinn Féin and the SDLP are trying to assert their domination by enforcing the preference and prominence of Irish in their council area. It is cultural sectarianism."
Mr McCausland added that English was the "language of proper communication" in Northern Ireland, and should remain first on any council signage.
UKIP councillor Henry Reilly said the Irish language was being used as "a weapon to humiliate the unionist community".
'Rights'
Mr Bradley said he could not see "anything discriminatory" about the decision.
"This is about providing speakers of Irish the opportunity to communicate in Irish with their local council," he said.
"It doesn't prevent speakers of English using English. Why shouldn't speakers of Irish have the same rights as speakers of English?"
The decision is expected to be ratified at the next full council meeting on 3 March. However, the County Down Outlook has reported that the decision could be challenged by unionist councillors.
Last week, the Culture Minister Carál Ní Chuilín published draft proposals for an Irish language bill in the Stormont assembly.
Unionists have opposed the plans and said they would block them.
A 12-week public consultation on the bill closes on 5 May.