Police 'justified' in firing AEP batons at man with samurai sword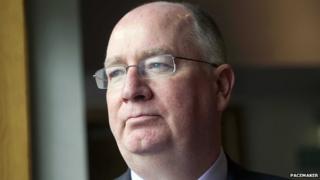 Police officers who fired two AEP plastic batons at a man wielding a samurai sword were justified, the police ombudsman has ruled.
The man attacked a PSNI Land Rover with the sword in the New Lodge, Belfast, on 9 August 2013.
It happened during rioting.
Officers fired two rounds at the man who was reportedly hit in the groin and lower leg. The ombudsman's report said he ran off but later admitted he had attacked the police vehicle.
The man subsequently appeared at court and received a suspended prison sentence for having an offensive weapon and causing criminal damage, the ombudsman said.
The officers said they had given the man a number of warnings before firing. The officer who fired the second round said he did so because the first round appeared to have had no effect.
Police Ombudsman Dr Michael Maguire concluded that the use of AEPs had been "lawful and proportionate" in the circumstances.