Stephen Brimstone: Minister hands over report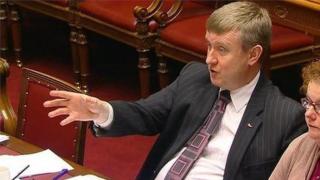 Social Development Minister Mervyn Storey has now handed over an internal civil service report on the conduct of a special adviser, the BBC understands.
Mr Storey was asked for the report by the social development committee, which is investigating allegations of political interference in the Housing Executive.
The report covers the behaviour of ministerial adviser Stephen Brimstone.
Mr Storey was asked to make the report available by 17:00 GMT on Wednesday.
While it was not submitted by the deadline, it is believed the report has now been sent to the committee.
It is understood some of the content has been redacted.
Allegations were made in a 2013 BBC Spotlight programme that Mr Brimstone pressured DUP councillor Jenny Palmer to change her vote in a Housing Executive board meeting.
At a previous session, the Department for Social Development (DSD) committee chair Alex Maskey said that unless the report was produced: "We're for the courts."
The committee met in closed session last week to consider correspondence from Mr Storey. They agreed to extend the deadline for the Minister until 17:00 GMT on Wednesday, 18 February.
The committee is due to hold its next meeting on Thursday morning.