Cinematographer Seamus McGarvey's scary moment with Meryl Streep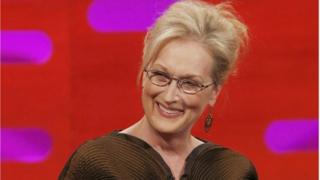 Northern Ireland cinematographer Seamus McGarvey has described the "scary" moment when Hollywood star Meryl Streep was not happy with how he made her look.
"Suddenly I'm in a screening room with Meryl going: 'I can't look like this'," he said.
McGarvey, who has been twice nominated for an Oscar, said he was working on the film, The Hours, at the time.
"Meryl Streep is playing a middle-aged woman in New York, it is a very real, veracity moment. I'm not glamorising it, it's kind of ad hoc photography," he said.
"So it's very scary sometimes when you are working with Hollywood actors and producers going: 'The actress isn't happy'. You just don't want to be fired, but at the same time you want to do your best work."
In The Hours, he was responsible for filming both Nicole Kidman and Meryl Streep
"It is difficult in many ways because certain actresses want to look great and sometimes a role doesn't demand it. That is a very difficult position to be in as a DP (director of photography).
"You want to be in service of the story but you don't want to be fired."
When Streep was not happy with how she appeared on film, he had to make some changes.
"I ended up compromising by putting diffusion filter and lighting her softer which I think is wrong for the film.
"All her close-ups look too glamorous for my tastes, but it saved my job so sometimes you just gotta bite it," he said.
McGarvey was speaking in an interview for BBC Northern Ireland's Arts Show.
He is originally from Armagh and told presenter Marie Louise Muir how his passion for cinematography began.
"My mum bought me the cheapest of cameras for twenty quid and then I was off," he said.
"Stills are the genesis for me and where I see imagination at work for real."
In 2013, he was nominated for an Oscar for his work on Anna Karenina and in 2008, he was on the shortlist for the film, Atonement.
"It is absolutely essential I get on with director and the director gets on with me," he said.
"Film sets are high octane, intense places. What is important is a creative rapport. I have that with Joe Wright, he is the most incredible thinker in images... Joe is the circus master, he is a great director in that regard and he really pushes me."
On both occasions, McGarvey admitted that he was "shocked" to hear about the nominations.
"The first time, I knew I hadn't a hope in hell," he said.
"I was up against Roger Deacons for The Assassination of Jesse James and No Country for Old Men and Janusz Kaminski for The Diving Bell and the Butterfly. Robert Elswit won with There Will be Blood.
"It was a great experience. I went along and had a laugh. I wasn't nervous. I didn't expect to walk up there."
McGarvey is considered one of Northern Ireland's most successful film exports and has been the man behind the camera on Hollywood blockbusters like The Avengers, Godzilla, Atonement, and 50 Shades of Grey.
You can watch the full interview on the Arts Show at 22:00 GMT on Thursday 19 February on BBC 2 Northern Ireland.