Farm Gate: Ulster Farmers' Union warns of BBC 'backlash'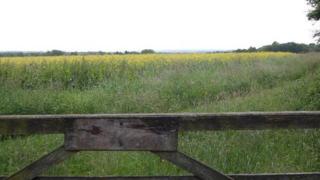 Ending BBC Northern Ireland's rural affairs radio programme Farm Gate would be "a retrograde step", the Ulster Farmers' Union (UFU) has said.
No announcement has been made about the weekly programme's future.
UFU president Ian Marshall said the BBC faced "a serious backlash from farmers and the wider rural community".
The BBC said a forthcoming announcement was expected to "allay many of the fears that have been expressed".
Mr Marshall paid tribute to the "outstanding, well informed and dedicated coverage" provided by Farm Gate presenter Richard Wright, who is leaving the BBC.
"Farm Gate has always been well-received and respected by the farming and rural communities but also has a much broader audience and is an invaluable information source for the wider general public about food and farming news," he said.
"In an age when consumers are increasingly losing touch with where their food comes from, we need every avenue possible to keep the public connected with farming and agriculture."
In a statement, the BBC said it was committed to making its coverage of rural affairs "even better than before".
"We recognise the importance of news, information and analysis about farming and rural issues and the value that BBC audiences attach to our programming in this area.
"We are currently looking at ways in which we can improve our coverage of agriculture-related stories. Our daily schedule will continue to reflect rural life in all its different aspects and the contribution that farming makes to the economy."