Kelly's Cellars among Belfast buildings that could be delisted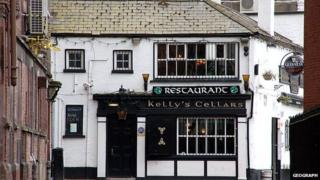 One of Belfast's most historic pubs is among 17 buildings in the city that could lose their listed status.
Kelly's Cellars in Bank Street was built in the 1700s and was a meeting place for the United Irishmen ahead of their rising in 1798.
The Department of Environment has given a list of buildings for proposed delisting to Belfast City Council and the Historic Buildings Council.
The Ulster Architectural Heritage Society said it was very concerned.
"We have always brought forward to the department that we would be opposed to it in principle," the group's Nikki McVeigh said
"We feel that they still have architectural and historical value and make a big contribution to the built heritage of Belfast.
"It is important that they're appropriately treated and listing ensures that."
She added: "Funding-wise, we are in a situation at the moment where budgets are being reviewed by the DoE and listed building grants may be cut
"It is an uncertain future for listed buildings generally in Northern Ireland and it's a very big concern that this may add to their vulnerability by taking away that protection."
The DoE said it had surveyed 824 historic buildings in the Belfast council area and the vast majority of listed buildings would remain and be protected.
Historic fabric
However, it added: "The issue regarding most of the buildings proposed for delisting is that internal investigation has revealed a significant loss of historic fabric.
"Decisions taken in the 1970s following the first listing survey were based upon exteriors and basic historic research.
"The department's recent consideration has evaluated this loss against a consideration of remaining architectural and historic interest. A final view will however, only be taken once consultation responses have been received."
Among the other buildings that could be delisted include Arthur Chambers on Arthur Street, the Ulster Bank (former Methodist church) on Donegall Square and Miss Moran tobacconist on Church Lane.