Bangor Community Hospital ward closure was unlawful says judge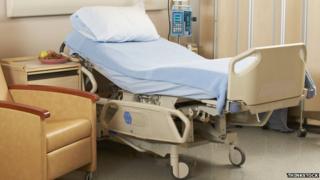 The closure of a hospital ward in County Down was unlawful, a High Court judge has ruled.
However, the judge did not order the reopening of the 20-bed unit at Bangor Community Hospital.
Campaigners began legal action following the closure of the GP ward late last year.
The decision, described as temporary, was part of wider budget cuts within the health service.
Lack of consultation
One of the ward's users, Bangor woman Eleanor Wilson, issued judicial review proceedings in an attempt to have the move reversed.
Her legal team argued that no public consultation was carried out.
Lawyers for the South Eastern Health and Social Care Trust had said that as the closure was only temporary, there was no duty to do this.
However, that position changed on Friday just before the court was was due to hear the case in full.
This meant that the judge was able to make a declaration that the closure of the hospital's in-patient ward was unlawful due to a lack of consultation.
With that consultation process now under way, he declined to order its immediate reopening.
Outside court, Ms Wilson's solicitor said his clients were delighted that the judge had declared the closure to be unlawful, but disappointed that the health trust was not responding by reopening the hospital.
"Our clients would encourage everyone in the local community to take an active part in the current consultation process as regards the future of the hospital," he added.