Northern Ireland projects to tap into £208m worth of new European funding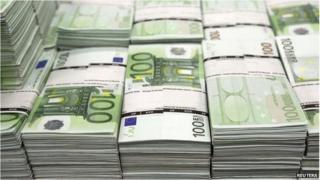 Northern Ireland projects will be able to benefit from European funding of 283m euros (£208m) after the European Commission adopted a new cross-border co-operation programme.
The Special EU Programmes Body (SEUPB) is to invite potential beneficiaries to apply for funding.
This will be done through a series of open calls, starting in the spring.
The Interreg programme is for NI, some border counties of the Republic of Ireland and Western Scotland.
It covers the period from 2014-2020.
The new programme has four key priority areas, research and innovation, the environment, sustainable transport, and health.
It's hoped the money will see 400 small and medium sized companies benefit from innovation support; 10,000 people get better wastewater treatment and the improved conservation of 4,500 hectares of natural habitat.
Other targets include a big increase in the use of cross-border public transport and a ten-fold increase in the registration of electric vehicles. There'll also be extensive support for cross border health projects which it's hoped will help 15,000 people and 5,000 vulnerable families.
In addition to the European Regional Development Fund (ERDF) investment of more than 240m euros (£177m), 43m euros (£31m) will also come from national contributions, raising its total value to €283m.
Pat Colgan, chief executive of the SEUPB, which will managing the programme, said it highlighted the Commission's "continued commitment to supporting greater levels of cross-border co-operation across the region, in order to improve the lives of local people".
Since 1995 the border counties of Northern Ireland and the Republic of Ireland have benefited from millions of pounds in funding.
As well as big projects such as the Peace Bridge across the River Foyle in Londonderry, many voluntary community groups have also come to depend on EU money.
Other examples of projects that have received funding are:
The construction of a 50,000 sq ft science park at Fort George in Derry and a 20,000 sq ft extension to the CoLab facility at Letterkenny Institute of Technology
A project examining the potential to use short rotation coppice willow to help clean up organic waste and wastewater, whilst at the same time producing renewable bio energy. This is led by the Agri-Food and Biosciences Institute (AFBI) in conjunction with Queen's University, Belfast and eight different cross-border partners
Tellus Border, a mapping project collecting geo-environmental data on soils, water and rocks across six border counties - Donegal, Sligo, Leitrim, Cavan, Monaghan and Louth - and continuing the analysis of existing data in Northern Ireland
Northern Ireland Finance Minister Simon Hamilton has welcomed the announcement and said the "considerable EU investment" would continue the important work of previous Interreg programmes, which had "played an important part in fostering cross border cooperation".
The SEUPB said it would publicise a "rolling calendar" of funding call dates on its website, in the coming weeks, to inform potential programme beneficiaries of application submission deadlines.