Urinating man claimed to be Star Trek's Jean-Luc Picard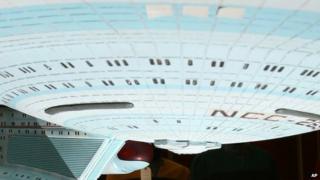 A man told police who stopped him for urinating in the street that he was the captain of the Starship Enterprise, a court has heard.
Kenneth Clinton, 49, claimed to be the Star Trek: The Next Generation character Jean-Luc Picard.
He then punched and kicked at two officers on Botanic Avenue in Belfast.
He admitted indecent behaviour and two counts of assault on police. The judge gave him a 12-month conditional discharge.
Clinton, of Brittons Parade in the city, was spotted urinating on 31 July last year.
Apologised
As police stopped to speak to him he began to walk away with his genitals still exposed, according to the prosecution.
A lawyer told the court that on being asked his name, Clinton replied: "I'm Captain Picard of the Starship Enterprise."
He refused to give more details, then started punching and kicking at both officers.
CS spray had to be deployed to calm him down.
Clinton later apologised for his behaviour, blaming it on alcohol.
A defence barrister said Clinton made the wrong decision after learning that public toilets were closed.
He said: "Whilst in the process of urinating in public, his case is the police officer put a hand on his shoulder and (said), 'Do you want me to put you on the sex offenders' register?'"
The lawyer said Clinton had personal difficulties, and acknowledged that he had handled the situation badly.
The judge said she was taking the "unusual course" of imposing a conditional discharge based on his mental health issues.
"That is not to reduce the severity of what happened, but (due to) the particular circumstances of this individual," she said.