Be Cancer Aware campaign to spot early warning signs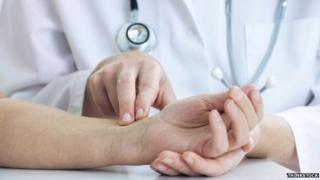 A new campaign is being launched in Northern Ireland urging people to take action if they experience possible early warning signs of cancer.
The Public Health Agency's Be Cancer Aware campaign highlights what to look out for and why you should get checked if potential symptoms show up.
Almost 49% of people would put off visiting the doctor over worries about what they might find, the PHA said.
The agency said people should set aside such concerns and talk to their doctor.
'Embarrassment'
Dr Miriam McCarthy, consultant in Public Health Medicine at the PHA, said: "With advances in treatment and care over recent years, there is often a lot that can be done to tackle cancer when it appears, but early detection and treatment are essential.
"Survival rates in Northern Ireland for some cancers fall below what is achieved elsewhere in the UK and Europe. Some of this may be due to low levels of awareness of cancer symptoms and a reluctance to talk to a GP at an early stage."
She said a survey for the PHA suggested barriers to people seeking help over symptoms "include being worried about what the doctor might find and embarrassment".
"We are urging people to set these concerns aside and speak to their GP if they have any signs or symptoms," she said.
"Finding cancer early and getting it treated can really make the difference and greatly improve the likelihood of survival."
Some of the common signs and symptoms that should be brought to GPs include:
coughing up blood
blood in urine
blood mixed through bowel motion (stools)
a change in bowel habit that lasts for more than six weeks
unexplained, significant weight loss (5kg/10lbs over a couple of months)
a lump anywhere on your body
changes on your skin or to an existing mole (such as itching, bleeding or a change in shape or colour)
a sore that does not heal
symptoms that refuse to clear up, such as a cough or hoarseness that lasts for more than three weeks
Almost 9 out of 10 cancers are diagnosed in people over 50, and the PHA said that age group in particular should be aware of how important it is to recognise any changes to their body and speak to their doctor if something is not right.
Health Minister Jim Wells said: "Fear of the unknown can be a terrible barrier for individuals who may have concerns about their health, and can impede early diagnosis and treatment of many illnesses, including cancer, which may otherwise be treated more effectively.
"I hope this campaign will inspire confidence across the population to contact their GPs as soon as they have concerns about their physical health and the potential symptoms of cancer."