Raymond McCreesh Park: SDLP unhappy with 'no shows' in Newry vote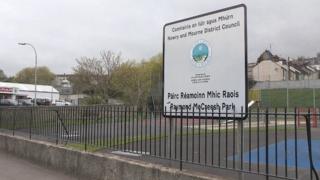 The SDLP leadership is having discussions with its party councillors in Newry and Mourne after the council agreed to retain the name of a park called after an IRA man.
The playground is named after Raymond McCreesh, who died on hunger strike in prison in 1981.
Eight out of nine SDLP councillors failed to attend a committee meeting last week where the vote was taken.
The party said this should not have happened and the decision was wrong.
The motion to keep the name - in place since 2001 - was passed by 15 votes to four.
Those who voted in favour were Sinn Féin councillors and two independent republicans.
One SDLP councillor abstained, but the other eight of his party colleagues on the council did not attend.
In a statement on Monday, the SDLP said: "Our councillors should have been there and it is regrettable that the party position was not made clear on the day.
"Our party policy is clear. The SDLP is committed to building a shared future by improving community relations throughout Northern Ireland and we are aware of the deep sensitivities surrounding this issue.
"We maintain that no public space should be named after those involved in state or paramilitary violence."
The statement said that there was "an on-going discussion with the councillors to explore how we can rectify the situation as soon as possible".
The matter has been an ongoing controversy, with the Equality Commission criticising the council last April for retaining the name. The commission said the decision went against the council's equality scheme and recommended it be reviewed.
In October 2013, SDLP leader Alasdair McDonnell told the Northern Ireland Assembly his party "deeply regrets the hurt and distress unwittingly caused" by voting to retain the IRA name.
McCreesh, from Camlough in south Armagh, was one of 10 IRA prisoners who died in the hunger strike in the Maze Prison in 1981.
His convictions included attempted murder, conspiracy to murder, possession of firearms with intent to endanger life and IRA membership.