Declan McGarry: Gambler in prison cell apology to victims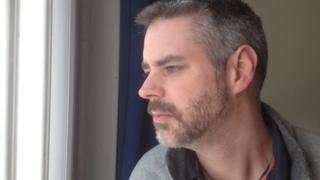 An accountant jailed for stealing hundreds of thousands of pounds to fund his gambling addiction has apologised to his victims from his prison cell.
Declan McGarry, who gambled millions of pounds during his 20s, says his single biggest bet was £216,000 on a horse.
The 32-year-old from Loughgiel, County Antrim, is serving an 18-month sentence for stealing from family members, clients and the Inland Revenue.
"I apologise wholeheartedly - it was a horrible thing to do," he said.
Speaking from his cell in Magilligan Prison, McGarry told BBC Radio Foyle that his gambling had been out of control.
'Mental torture'
"It's just mindboggling looking back at it, the dirty tricks that you exposed yourself to," he said.
"Out of addiction, I'm a decent human being, but in addiction I would have done anything for money."
He admitted that he would not be able to repay his victims as he is bankrupt.
"Five years ago if I'd heard somebody who was in my position, I would have said, 'it serves you right', but the mental torture that somebody goes through in my situation, being in it, I wouldn't wish it on my worst enemy.
"I certainly hope that at some stage I'm able to say, I'm sorry - that's all I can say, not to let it happen again.
"My wife, my parents, my family - it destroyed them too, and they're unfortunately every bit as as much victims as the people who lost money."
McGarry said that when he was gambling major sums of money, "lies became a way of life".
"It's just pure chaos. When you're in the middle of the addiction, you don't realise what you're doing," he said.
"Two minutes after the race, the buzz is gone. There's as much of a buzz about the horse running and getting beaten as there is in winning, because that's what you live for - you live for the adrenaline.
"Two days after, it's a complete nightmare because you realise you've spent somebody else's money."
He said he has now stopped gambling "for today, but that's all I would ever commit to".
"Who knows what tomorrow will bring? If I look after today, there's a good chance tomorrow will look after itself," he said.
"At this point in time, the gambling is kicked - I got that big of a sickener of it.
"There may well be another bet in me, but there's no way there's another recovery, and that scares me - for me to do that bet, is for me to die."
McGarry said there were other people serving jail sentences alongside him who were also living with the consequences of their gambling addiction.
"It's a similar story of heartbreak, sad tales, big losses and ultimately jail, lost families and lost lives - that's where it takes you," he said.