Amnesty International: NI 'still not dealing with troubled past'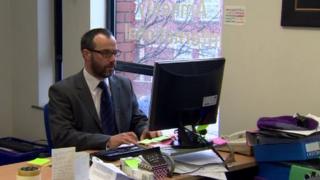 Northern Ireland is still not dealing properly with issues relating to its troubled past, according to a new report by Amnesty International.
It described the structures currently in place to address the legacy of the Troubles as an "inadequate system of patchwork measures".
It criticised the government's refusal to hold public inquiries into high-profile cases like the 1998 Omagh bomb.
It said the Stormont House Agreement had left "many unanswered questions".
'Fragmented'
The concerns were raised in Amnesty International's latest annual report, which examines the state of human rights across the world.
The Northern Ireland section of the report focused on the latest political developments in dealing with Troubles-related crime and continuing campaigns for inquiries into the Omagh bomb and the 1989 murder of Belfast solicitor, Pat Finucane.
Amnesty's Northern Ireland programme director, Patrick Corrigan, said: "Victims of Northern Ireland's conflict continue to suffer the consequences of a fragmented and partial approach to investigating past human rights abuses."
"The Historic Enquiries Team has been replaced by the Legacy Investigative Branch of the PSNI, but has inherited many of the same public concerns about its independence.
"Meanwhile the Stormont House Agreement leaves so many unanswered questions about timeframes, financing and disclosure of evidence, that victims have been left uncertain as to its merits and left waiting for draft legislation to emerge in London, Belfast and Dublin," Mr Corrigan said.
State killings
The political deal was struck after weeks of intense negotiations between the five biggest parties and Stormont and the British and Irish governments.
The agreement failed to address issues like flags and parades, but the legacy of the Troubles was one area where progress had been made.
The parties agreed to set up a new dedicated police team to investigate unsolved Troubles murders, after its predecessor, the Historic Enquiries Team (HET) was undermined by a report that found it investigated state killings with less rigour than those carried out by civilians.