1960s TV reports by James Boyce gain new audience online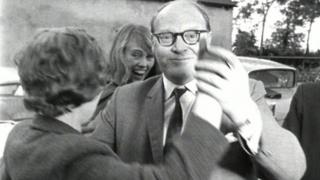 Telling a great story is at the heart of what journalists try to do, and, in the 1960s, few did that better than BBC News NI's roving reporter James Boyce.
Decades before computer graphics and social media, Boyce trekked all over Northern Ireland, finding quirky, historical and often downright strange tales.
He immersed himself in every story he covered, but it's been many years since any of them aired on TV.
Thanks to our treasure trove of archive, Boyce's reports, along with many other old clips, are now available for a new generation of viewers to revel in.
Many of them have already been posted on our BBC News NI Live service and have made Boyce a star of a medium undreamt of in the 60s.
'Great eccentric'
Not much is known about Boyce, despite extensive trawling through old files to discover more about his life.
He was born in 1909 in Rasharkin, County Antrim, and also spent time living in Dunmurry and Belfast.
According to the files, he was married and had several children. He was also a "regular participant" in a Radio 4 quiz programme Brain of Britain.
Boyce was not a journalist by trade, working as a French teacher at the Royal Belfast Academical Institution before making his foray into broadcasting.
The files describe him as a "great eccentric in his teaching methods", and that eccentricity certainly shone through in his reporting as well.
One of his more unusual reports focused on a museum in Ballycastle, County Antrim, that featured an array of objects reputedly owned by famous people.
Sign of the times
Perched on a horse with a saddle previously owned by Buffalo Bill and armed with a rifle believed to have belonged to Edward Carson, it's not quite how you'd imagine a BBC reporter to look.
Boyce's reports were unique in that they tended to emphasise the more unconventional aspect of a story, sometimes at the expense of the facts.
Delving into the archives of his pieces reveals a glimpse of what life in Northern Ireland was like back then, through a black-and-white lens.
In several of Boyce's stories, he can be seen holding a cigarette in one hand and his microphone in the other - a sign of how much times have changed.
Some things, however, never change. He reported on gluttony in Northern Ireland in the 1960s - and we're still having difficulties with portion control more than five decades later.
Entertainer
Boyce's nose for a different kind of news took him all over Northern Ireland.
From reporting on the removal of a fairy rath in Cappagh, County Tyrone, to a straw wedding in Derrylin, County Fermanagh, he never stayed in one place for too long.
Boyce died suddenly in November 1966 but his quirky reports remain and are just as entertaining now as they were for audiences 50 years ago.