Stephen Brimstone: Minister Mervyn Storey writes letter to Alex Maskey over report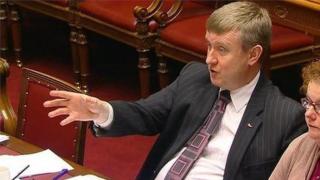 The DUP's Mervyn Storey has written to the chair of a Stormont committee that gave him until Thursday (today) to hand over a full report into the conduct of one of his party's special advisers.
The BBC understands the social development minister has legal advice telling him he does not have to comply with the demand.
Last week, Stormont's Social Development committee received a report into the conduct of Stephen Brimstone.
The copy had parts blanked out.
MLAs on the committee have been investigating allegations of political interference in the Housing Executive.
They were raised in a BBC Spotlight programme in 2013.
It is claimed Mr Brimstone ordered a DUP councillor to change the way she intended to vote at a Housing Executive Board meeting.
Last week's report, carried out by civil servants, recommended a formal disciplinary investigation into Mr Brimstone's behaviour.
Legal advice
But other parts of the report, which some allege had been buried, were blanked out and the committee gave the minister until 17:00 GMT on Thursday evening to hand over the full un-redacted version.
The BBC has learned that Mr Storey sent a letter to the committee chair Alex Maskey on Wednesday afternoon.
He is also expected to write to the Assembly Speaker Mitchel McLaughlin by 17:00 GMT on Thursday evening.
However, the BBC understands the minister has legal advice telling him he does not have to comply any further with the committee's demand.
The committee will hold its weekly meeting on Thursday morning when the issue is expected to be discussed.