MLAs turn from cuts to raising revenue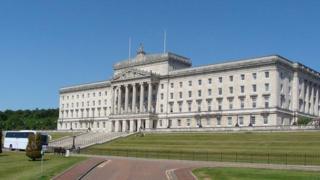 As public sector unions announced plans to strike next month in protest against job losses and service cuts, senior finance department officials told MLAs they anticipated a high degree of interest in the voluntary exit scheme agreed during the Stormont House talks.
The aim is to shave approximately £90m off the Stormont wage bill - and that's just the scheme restricted to the Northern Ireland Civil Service.
Other schemes will soon come on line for sectors like health and education.
The lump sums received by departing staff will be paid for by the Treasury loan facility negotiated during the pre-Christmas talks.
Controversial
Arguments about the Stormont cuts tend to be a little circular, with the unions insisting the axe is falling on the most vulnerable and executive ministers pleading that they have no option given the decline in the UK block grant in real terms (if not cash terms).
This week MLAs addressed the other side of the equation - not cuts, but revenue raising.
Raising charges or rates or levies tends to be anathema for the main Stormont parties.
Only Alliance has backed the controversial notion of water charges.
Instead, the mantra at Stormont has been freezing rates, refusing to introduce water charges and maintaining free prescription charges and travel for the elderly.
These policies are all popular at election times, but don't do anything to set the Stormont budget on a more even keel.
Levies
Indeed, the big economic idea the Stormont politicians have - cutting corporation tax - promises to put a £300m hole in future budgets.
Even if it works as a job creation strategy - and that's far from certain - as things stand any increased tax collected will go to the UK Treasury rather than directly to Stormont.
During Monday's debate, Sinn Féin's finance spokesperson Daithí McKay dabbled his toe in the revenue raising water, mentioning Scotland's health levy and the community infrastructure levy available to local authorities in England and Wales without endorsing either scheme.
Mr McKay specifically backed raising the ceiling on rates for the most expensive homes over £400,000, arguing this would raise close to £7m.
Alliance's Judith Cochrane welcomed Sinn Féin's comments on abolishing the rates cap, arguing such a decision would show Stormont is serious "about tackling such subsidies for the wealthy to protect services that benefit the less wealthy".
Ms Cochrane also indicated water charges and rate increases may prove necessary, questioned the continuation of free prescriptions and asked if it was right that people over 60 earning £50,000 or more should be entitled to a free bus pass.
Other parties were more reluctant to suggest new charges.
The SDLP's Fearghal McKinney reckoned Sinn Féin's approach could be summed up by two words "more" and "tax".
The TUV's Jim Allister pointed up the cost to the Stormont budget, both of devolving corporation tax and making payments to those disadvantaged by welfare reform.
The UUP's Leslie Cree said Sinn Féin had failed to spell out any grand plan as to how it would use extra fiscal powers to generate huge sums of money for Stormont.
No surprise
As things stand, locally-collected rates amount to only around 5% of the Stormont budget.
So even increasing them significantly would only have a marginal impact on the overall budget.
One estimate mentioned by several MLAs is that a 1% increase in the regional rate would yield just £5m which, as Finance Minister Simon Hamilton put it, isn't an "insignificant amount of money, but, in the grand scheme of the budget, it is not going to shift the needle significantly".
The DUP assembly member made it clear he's not up for the introduction of water charges or a major rate increase.
Putting a cap on rates for the most expensive properties was one of the DUP's red lines during the St Andrew's talks back in 2006, so it was no surprise that the finance minister argued that abolishing the rates cap wouldn't "deal with those who are asset-rich but income-poor".
However, he is prepared to consider Health Minister Jim Wells' suggested prescription charges as well as "a modest increase in tuition fees".
Mr Hamilton derided previous Sinn Féin suggestions for a tax on mobile phone masts or the sale of the government art collection.
He was equally dismissive of the SDLP's ideas about taxing ATMs and selling "an airport we did not own".
That said, we know Stormont officials remain keen to see if they can leverage more revenue from Belfast Harbour.
Stormont's revenue raising options are limited, and the Irish government's experience of water charges will have confirmed most executive ministers in their opposition.
But could it be that, as austerity continues, more MLAs will conclude that, however unpalatable any new levies or charges might be, you can't balance your books by cuts alone?