Newry-based First Derivatives acquires data analysts Prelytix for up to £13m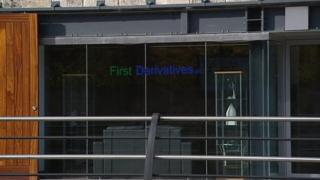 Software firm First Derivatives has acquired data analysts Prelytix in Massachusetts for up to £13m.
First Derivatives normally works in capital markets with investment banks, brokers and hedge funds.
In January, the Newry-based firm acquired data vendor KX Systems - their first move into the digital marketing platform market.
The company said it was part of their strategy to combine marketing technology with their software.
Prelytix makes predictive analytics using real-time advertising data, website traffic and social media.
Last year, they reported revenues of $2m (£1.28m).
In a statement, the chief executive of First Derivates, Brian Conlon, said digital marketing was one of a number of vertical markets that was challenged by rapid growth in data volumes.
The company said this acquisition creates a unique end-to-end technology marketing firm which they say offers the potential to generate significant revenues for the Company.
Mr Conlon added that the acquisition of Prelytix follows their £15m share placing earlier this month to accelerate opportunities in fast data.
The company will be updating the market in due course.
First Derivatives is one of Northern Ireland's only two listed companies.