Lurgan parents angry over 'no free transport' to Newry schools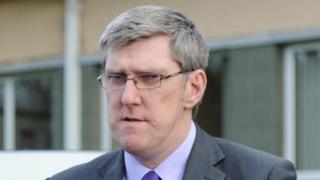 A group of parents in Lurgan, County Armagh, have said they feel they are being bullied into sending their children to a new all-ability school.
St Ronan's College will merge three schools in the town. It is called a grammar school but will not use academic selection.
The parents want to send their children to a grammar in Newry, County Down.
However, the creation of a new school in Lurgan means the children do not qualify for a free bus pass.
Dermot Kearney said his son wants to go to Abbey Grammar School in Newry.
"I was expecting to get the same as other children over the years, which is funding for him to go to the school he has chosen," he said.
"My wife and I feel that choice has been taken away."
'No free transport'
The Southern Education and Library Board (SELB) is responsible for issuing school bus passes in the area.
Its rule is that if a child lives more than three miles from a school in its chosen category, such as a Catholic grammar school, then he or she is entitled to a free bus pass.
When St Ronan's opens in September, primary 7 pupils in Lurgan who want to go to a Newry grammar school will not qualify for a free bus pass.
Those already attending Newry schools, including older siblings of children affected by the new school, will continue to receive free transport.
The SELB said the school was designated as a grammar school through the development proposal issued by the Council for Catholic Maintained Schools (CCMS).
It was approved by Education Minister John O'Dowd in 2014.
The term grammar school, as used by the Department of Education, is a description of a school's management style and the way it is funded rather than whether it uses academic selection.
St Ronan's will merge three existing schools - St Paul's and St Mary's secondary schools and St Michael's grammar school.
It will open across three existing campuses but a new school will be built within five years.
'No problem'
Mr Kearney said: "It's basically a name given to a school which does not exist yet.
"It's also non-selective, which means it's not going to segregate the smarter kids from the other children."
Mr Kearney attended two of the schools being amalgamated and said he would have no problem sending his children to St Ronan's "in five years time, if a new state-of-the-art school is built and it's getting good exam results".
Elaine Mulligan said her daughter wants to go to a grammar school in Newry.
She is leading a campaign to ask Education Minister John O'Dowd to waive the rules over bus fares in the next academic term.
Ms Mulligan said parents are considering legal action as they were not given enough warning about the change.
"Not all parents were aware of the implications of St Ronan's opening. Some are assuming they will get free transport, especially when one of their children is already getting it."
Mr O'Dowd said it was a matter for the SELB, in an assembly question put to him by SDLP MLA Dolores Kelly at Stormont.
He said: "I have no role in the issue of school transport in the Upper Bann or any other area."
The principal of St Ronan's, Michele Corkey, said she and the board of governors had no role in the decision to call it a "voluntary non-selective grammar school", but that she is very happy with the way the school will be financially managed.
The Southern Education and Library Board said calling St Ronan's a grammar school was part of the proposal by the Catholic Council for Maintained Schools and that the board's only role was to publish the proposal for public consultation.
None of the grammar schools in Newry responded to calls about the transport issue.