Mother of disabled children relieved at swim pool U-turn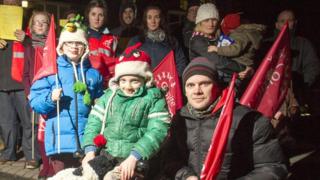 A mother of two children with disabilities has said she is relieved by a council's U-turn on a 2,770% rise in swimming pool fees.
Newry, Mourne and Down District Council had voted to increase annual charges for children and adults with disabilities by almost £160.
That would have left Cara McShane facing an annual bill of £330 instead of £11.50 for her children to swim.
However, councillors reversed the decision after protests.
With a new swimming pool set to open in Newry in April, the council had decided that annual charges for children with disabilities to use it, and pools in Downpatrick and Kilkeel, should rise from £5.75 to £165.00, while the cost for adults with disabilities would rise to the same figure from £11.45 per year, an increase of 1,840%.
Protest
"It was frightening when we found out. I don't work full-time because my daughter and son have special needs and I need to look after them, so we're down to one wage," Ms McShane said.
"My daughter has motor problems and diabetes and she swims quite a bit to improve her circulation, and my son is three-and-a-half and has autism. He has a natural attraction to water so it's important for us that he can swim.
"We need special aids for their therapy, so if the new costs had to be put on top of that we would probably have no option but to go less frequently."
"There has been anger that people weren't consulted about what was happening. Newry has higher unemployment and a higher population than Downpatrick, so bringing these charges in doesn't work for people here.
"Newry has needed a new pool, but we would rather have the old pool with the lower costs than the new pool with the higher costs," she added.
Up to 60 protesters, including children with disabilities and their parents, gathered outside council headquarters during the meeting of the new super council's development committee on Tuesday night.
Merger
Ciaran Mac Murchaidh, whose son Aonghus is unable to walk and takes one-to-one lessons at the existing pool in Newry, said families were concerned about not just the financial impact of the increases, but also the "psychological effect".
"This has been another thing to factor into our lives as parents of a disabled child, another charge on top of everything else," Mr Mac Murchaidh said.
"It was threatening to become an extra burden, and God knows what it was going to be like for those on lower incomes than ours.
"I didn't think the new charges were acceptable, they were hitting middle to low income families hardest in these days of austerity."
Down District Council does not offer a reduced rate for swimmers with disabilities. The new super council created by merging Down and Newry and Mourne councils had decided to set a fixed annual cost of £165 ahead of the merger in April.
Independent councillor Davy Hyland said that there was a "collective sense of embarrassment" among those on the committee that they "hadn't done our homework" on the issue.
However, Mr Hyland said that the charges would have to be reviewed in the future.
"The prices are remarkably low and for a new pool you would be expected to pay a bit more than the current charges, but they will remain at the current rate for the foreseeable future."