From Eskra to Crumlin: A tale of two villages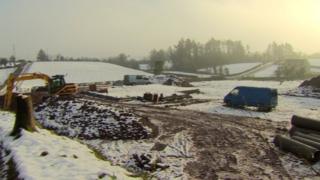 The road to Eskra in County Tyrone, is paved with spectacular scenery.
The endless rolling fields glisten in the last of the winter snow. The landscape stretches into the distance and there doesn't appear to be a shortage of land.
The hamlet sits around eight miles outside Omagh, where many Eskra natives now live.
Around 800 people live in the area, but many young adults have left in recent years. This is starting to take its toll, perhaps most of all on the local GAA club.
Many locals say Eskra Emmetts is the heartbeat of the community.
In 2013, they won the Tyrone intermediate championship but there are now concerns about the future, especially at youth level.
"Even last year we were not able to field at some underage groups, minors and under-12s." says club chairman Cathal McCaffrey.
"The ready-made affordable housing isn't there. That's the situation I'm in myself.
"I'm recently married, just over two years ago, and now I live in Omagh. It's just not me."
A lack of sewerage infrastructure is the main reason and it seems a significant housing development is not happening anytime soon.
This is forcing some to take matters into their own hands.
Daniel Woods left Eskra almost 10 years ago.
He is now married and has a family in Omagh, but is returning home.
He recently bought land and eventually secured a contractor to build a single dwelling. This was no cheap - or easy - task.
"A friend of mine who knew we were looking for a site told me about a sign with just a mobile telephone number," he said. Within a week we decided we wanted it…I removed the sign because there is that much interest."
Around 50 miles east, there is a community experiencing a very different change.
Crumlin's population has multiplied more than three times since 1970 and now the County Antrim village has three primary schools and one secondary.
There's an ongoing £600,000 regeneration scheme in the town centre and a new leisure centre that cost nearly £5m.
More than 1,200 new homes have also been built there in the past 40 years. But it is not just the physical landscape that has changed.
"Crumlin was a small, Protestant, unionist mill village," says historian Dr Eamon Phoenix.
The majority of the population boom is an overflow from west Belfast, with subsequent major cultural changes in the town.
"It's one of the rare examples in Northern Ireland since partition where you've massive demographic and political change in an area that was a traditional unionist heartland," he said.
Some local traders say they wouldn't want their business anywhere else.
'Austerity'
Peter Burke owns a hair salon and says that "even with austerity, business has been steady enough".
"The town itself and the infrastructure of the town will expand, which will obviously introduce more business, so it will be a little bit more competitive, but it's still the place to be," he added.
In the hills off the Antrim Coast Road near Garron Point, lies a community condemned to the history books.
The last resident of the hidden village of Galbolly left in the 1950s.
The only life wandering the overgrown paths now is sheep from the nearby farm.
The buildings are lifeless and crumbling.
Despite its eeriness, there's a beauty to this place, but also a haunting reminder about the most important factor in any community in Northern Ireland: its people.