David Ford voices concern at pace of legal aid reform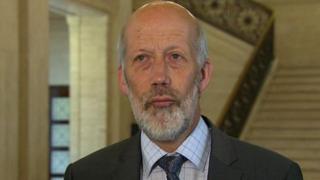 Justice Minister David Ford says there will be a "real problem" if the NI Executive does not agree a way forward on legal aid changes "fairly urgently".
Mr Ford was speaking after the issue did not make it onto the agenda for Thursday's executive meeting.
He is proposing a short-term plan of a levy of up to 15% on legal aid payments to lawyers.
Other changes would be put in place to reduce the costs of legal aid to his department's budget.
It is understood Mr Ford had hoped the executive would discuss the plans on Thursday.
He said it was "not clear" what the political opposition to the plans were, and that he would speak to the other parties to clarify their positions over the next week.
The minister said: "The reality is we have to meet the needs of the entire justice system within our budget, and we cannot fund legal aid at the level it has been funded in the past.
"The Department of Justice has a very difficult budget settlement that is putting pressure on all our frontline services. Legal aid cannot be exempt from that."