George Gray murder: Alan Irvine jailed for 12 years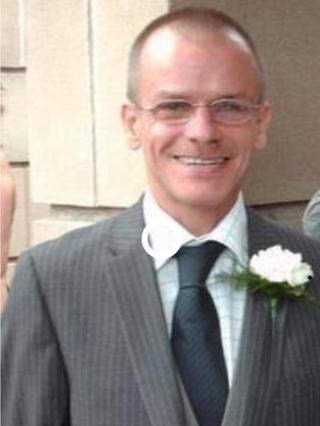 A Belfast man has been jailed for a minimum of 12 years for the "brutal and senseless" murder of a father of four.
George Gray, who was 52, was beaten to death in his flat on east Belfast's Cregagh Road on 30 August, 2012.
Alan Irvine, 31, from Rosebery Gardens, Belfast, pleaded guilty to the murder last month.
Speaking after the sentencing, Mr Gray's family said that while they now have "closure and justice", this could "never compensate" for his life.
The judge at Belfast Crown Court said Irvine had carried out a "merciless and unjustified attack" on a man who, due to intoxication, was unable to defend himself.
'Multiple injuries'
The court was told that Irvine and a friend had been drinking in Mr Gray's flat between 28 and 30 August 2012.
Following the murder, Irvine's friend died of natural causes in police custody.
As well as sustaining multiple injuries to his body, Mr Gray was also stabbed twice in the assault.
Irvine was captured on CCTV placing an object into communal bins at the block of flats.
When police later searched the bin the knife was found. When it was tested both Mr Gray's blood and Irvine's DNA were present on it.
Mr Gray died from blunt force trauma to the head, neck and chest, and his body was found by his girlfriend a day after the attack.
The court heard that in the aftermath of the murder, Irvine initially denied involvement and claimed he had left the flat and gone back to his mother's house on 29 August - a claim that was at odds with CCTV footage.
As he passed sentence, the judge said "the circumstances surrounding this death were both brutal and senseless".
He told Irvine his behaviour was "revolting" and imposed a minimum 12-year sentence that is to be served in full, without remission.