Cecilia Daly: BBC NI weather presenter has calf called after her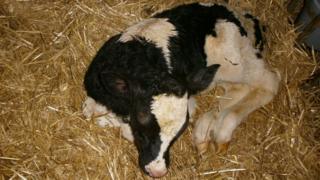 Footballer George Best has an airport: poet Seamus Heaney has a library, but BBC NI weather presenter Cecilia Daly's latest honour has them both licked.
She has a baby calf called for her.
It's not everyday you have a Friesian cow named for you and Cecilia is suitably moo-ved.
In fact, on an icy February day, there us something just right about a weather presenter who can put the Friesian into freezin'.
"I like having a calf named after me," Cecilia said
"Young Cecilia was born last Tuesday at the McClelland farm in Limavady. I was in the town to speak to Primary 3 children at Limavady Central Primary School about the weather, as part of their science week.
"That's when I heard about my namesake."
Wendy McClelland teaches Primary 3 pupils at the school. Her husband, James is a farmer and they have recently diversified into diary farming. He is a big weather fan.
"We have just put up a milking parlour," Wendy explained.
"This was our first calf. She was born at 06:30 GMT on Tuesday. It was the day that Cecilia was coming into our school. James came in through the door and said: 'It's a little girl and let's call her Cecilia'".
They have sent a picture of the calf and are hoping the weather presenter is not offended.
Teacher Alison Kilgore said: "Lucinda O'Brien and I organise Science Week and Cecilia came to talk to the children in Primary 3. She was absolutely brilliant and the children were so enthusiastic. In fact, she has done our work for us for the next few weeks."
Cecilia enjoys sharing her passion for the weather with young people.
"They love talking tornadoes and hurricanes," she said.
Now, she may have to do a return visit, to see how little Cecilia is growing up.