Abortion: Doctors tied to 'apron strings' of legal profession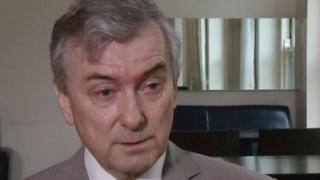 The chair of the Northern Ireland Royal College of Obstetricians and Gynaecologists has said colleagues working on the front line need clear guidance on abortion law here.
Robin Ashe highlighted the wrangling over Northern Ireland's abortion law, especially the 2013 abortion draft guidelines.
He said this was not helpful to anyone.
Northern Ireland's abortion law differs from the rest of the UK.
It is only allowed in very restricted circumstances.
The only exceptions are to save a woman's life or if there is a risk of permanent and serious damage to her mental or physical health.
Speaking to the BBC, Mr Ashe said: "If I am not, or my colleagues are not able to consult with a patient without thinking, am I undertaking something unlawful - well that causes concerns for the doctors, the nurses in fact everyone involved.
"We aren't used to being tied to the apron strings of the legal profession, quite frankly."
According to some doctors, the 2013 draft abortion guidelines published by the Department of Health have caused a great deal of offence and fear.
Following their publication Prof Jim Dornan, a retired obstetrician, said they had introduced a "chilling effect" of unclear guidelines coupled with criminal regulation.
According to Prof Dornan: "Some of the health trusts went to their legal teams at that stage and were advised to stop giving advice on what to do in these situations."
This week saw the publication of Amnesty International's report into women's access to abortion services in Northern Ireland.
It looked at access to abortion services, which it concluded fell short of the standards required by the UK's international human rights obligations.
It said women's access to, and experience of, health care facilities varied depending on their health trust.
It's a view supported by the Royal College of Midwives, the Family Planning Association and Marie Stopes who said women were being sent from Fermanagh to Belfast in the hope that an obstetrician there would perform a termination.
Robin Ashe, a consultant gynaecologist at Antrim Area Hospital, agrees that abortion services can differ from one health trust to another.
He said the 2013 draft abortion guidelines had created a climate of fear among his colleagues.
"Our impression was that the guidelines were rather harsh and very legalistic, such that our colleagues, including nurses practitioners felt in dealing with patients who have a fatal foetal abnormality that they may be prosecuted as a result of agreeing with the patient a legal termination of pregnancy.
"I think that's probably what has resulted in this climate of fear over the past couple of years relating to terminating pregnancies with a lethal foetal abnormality."
The Royal College of Obstetricians and Gynaecologists has written to the leaders of the Northern Ireland's political parties asking for a meeting to present their view on practices and procedures.