Connor Hughes jailed for possessing bomb inside holdall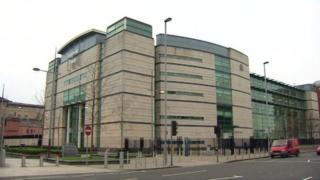 A west Belfast man has been jailed for 11 years after he was "caught red handed'' with a bomb hidden in a holdall.
Connor Hughes, 23, from Altan Close, Dunmurry, had pleaded guilty at Belfast Crown Court to a possessing a blast bomb type device with intent to endanger life.
He was arrested during an intelligence-led police operation last year.
Police said they welcomed the sentence handed to Hughes.
An earlier court hearing heard that Hughes was stopped by police at the junction of the Glen Road and Shaw Road on 27 March 2014.
He was carrying a holdall and when it was searched, the bag was found to contain "a number of wires and what was thought to be a firing pack".
'Final preparations'
Officers immediately suspected this to be a bomb and Hughes was arrested under the terrorism act.
The court also heard that before it was found, the bomb had been picked up in Lenadoon and was being moved "in order to make final preparations for its deployment".
Passing sentence, Judge Gordon Kerr QC said: "This was clearly a terrorist related device which by means of a command wire was designed to allow the operator to chose the target and also allowed time to attach the command wire and cause the optimum damage and injury.
"The Army technical officer stated the device was ready for use and all it needed was for the command wire to be attached to the battery pack, a key to be inserted and the explosive device would be fired.
"There is a clear inference that the defendant was to use the device and must have contemplated that it would have caused death or serious injury to his target.''
"I consider the appropriate sentence to be one of 11 years.''
The judge said he did not believe that Hughes would pose to a danger to society after his release and sentenced him to five and a half years in jail, with the rest to be spent on supervised licence.
Lives saved
After sentencing, police welcomed the 11 year jail term handed down to Hughes.
Det Supt Kevin Geddes, from the PSNI's terrorist investigation unit said: "Police action on that night last March undoubtedly saved lives, most probably the lives of our police colleagues who were working to provide a service in the area to the local community."