NI budget: Transport NI expected to be impacted by cuts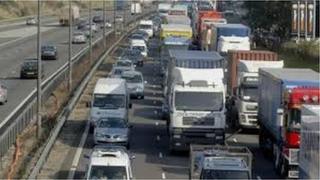 Regional Development Minister Danny Kennedy is expected to announce cuts to his budget next week which will impact on Transport NI, which looks after the roads network.
Savings are also having to be made at NI Water and Translink.
It is believed Transport NI will be worst hit when he unveils his day-to-day spending in his 2015/16 budget.
There is speculation it will impact on fixing potholes and cutting roadside verges.
However, he will still be able to do major capital projects, such as finishing road projects like the A8 to Larne and the A2 at Greenisland.
Translink will also be worse off.
It recently announced proposed savings of £2m, following a review of senior staff and administration costs.
Management jobs will go, but the public transport firm has not revealed how many posts will be lost.