'Gay cake row': Amnesty International rejects DUP conscience clause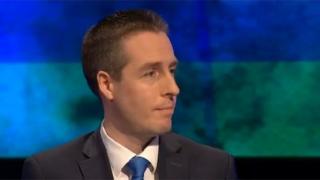 Amnesty International has said it rejects "the premise and proposals" of a DUP Private Member's Bill seeking to build a conscience clause into equality law.
The bill was drawn up by DUP MLA Paul Givan, after a Christian-run bakery faced legal action for refusing to bake a cake with a pro-gay marriage slogan.
The clause would allow businesses to refuse to provide some services if they clash with their religious convictions.
Amnesty wants the bill to be withdrawn.
"Amnesty does not accept that there is a need for a change in the law along the lines proposed in the paper," they said.
"The existing regulations are compatible with the European Convention of Human Rights, which balances the right to manifest religious beliefs and the rights of individuals not to be discriminated against on grounds of sexual orientation.
"Amnesty does not consider there to be any necessity for these regulations to be so amended."
The Catholic Church has said it supports the general objective of the bill.
After meeting Mr Givan and the DUP leader Peter Robinson at Stormont earlier this week, the Catholic delegation said that any change to the law would have to be carefully defined, to prevent it from leading to spurious claims of religious conscience.
The Presbyterian Church in Ireland called for "reasonable accommodation in matters of conscience".
It stressed "the importance of upholding the right to freedom of conscience, and crucially the need for appropriate balance and reasonable accommodation, which, at present is absent from the law".