UUP leader Mike Nesbitt warns DUP over unionist unity statements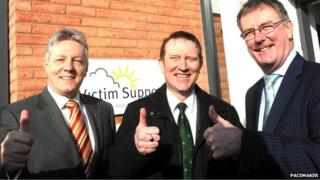 The DUP should focus on negotiations about agreeing joint unionist election candidates "behind closed doors", UUP leader Mike Nesbitt has said.
"The DUP will not use the media to try to intimidate me into changing tack," he said.
Mr Nesbitt said his offer of "the DUP standing in North Belfast and the UUP having a clear run in Fermanagh-South Tyrone" remained on the table.
Earlier, the DUP's Simon Hamilton said negotiations were at a critical moment.
Mr Hamilton told the BBC's Sunday Politics: "This is a once in a generation, several generations, opportunity for parties.
"Work needs to continue over the next number of days on a few critical seats where we think we can actually maximise a return for unionists."
In 2010, the DUP won in eight out of Northern Ireland's 18 constituencies. The UUP did not win any seats.
The two parties fielded unity candidate Rodney Connor in the Fermanagh-South Tyrone constituency, which the DUP's Arlene Foster represents in the Northern Ireland Assembly.
Mr Connor lost by four votes to Michelle Gildernew of Sinn Féin, which abstains from taking its Westminster seats.