Crossmaglen explosion: Francis McCabe's family 'hopeful'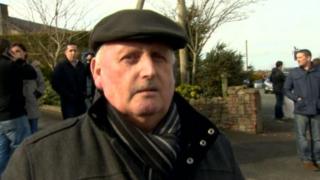 The father of a man who was injured in an explosion in south Armagh has said he should find out this week if his eye can be saved.
Francis McCabe Junior suffered injuries to his chest and face in the blast outside Crossmaglen on Wednesday.
Sinn Féin President Gerry Adams said the booby-trap bomb was designed to intimidate.
Mr McCabe's father, Frank, said medical staff were more hopeful about his condition.
"At the moment he's back at home, he was more afraid of getting infections in the hospital," he said.
"His wife's a nurse so she is able to do all the necessary stuff.
"Tomorrow (Monday) he's to meet the specialist who carried out the operation on his eye.
"The next day he's to meet another specialist.
"It's to do with the injuries behind his eye and at that point they should know if they can save the eye or not, so we'd be more hopeful that we were initially."
Speaking at a republican commemoration near Crossmaglen on Sunday, Mr Adams said: "Those who placed the bomb didn't care who they killed.
"Their intention was to intimidate and terrorise and coerce those in south Armagh who have been taking a stand against the criminal gangs."
He said: "In recent years the criminal gangs have grown bolder and more dangerous and better organised."
Mr Adams, who represents North Louth in the Dáil, the Irish parliament, said republicans were "not involved in criminal actions along the border or indeed anywhere else".
"In recent times a section of the media, the SDLP, the Fianna Fáil leader Micheál Martin and the Taoiseach Enda Kenny have engaged in a deliberate campaign of vilification and demonisation against Sinn Féin, and the communities of north Louth and south Armagh," he said.
Last week, a report by the British-Irish Parliamentary Assembly expressed alarm at the number of fuel laundering plants and filling stations selling illicit fuel in border areas.
Mr Adams said he had met senior police officers from both sides of the border to discuss the actions of criminals gangs.
He said the PSNI "must demonstrate that it can police fairly and effectively, and that they do support citizens who oppose criminality".