Snow and ice affecting Northern Ireland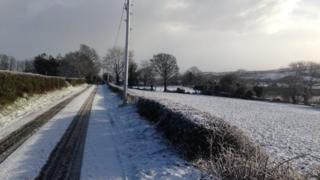 Snowfall and ice have affected parts of Northern Ireland.
Light snow showers fell across all counties on Monday morning.
Belfast City Airport had to divert an inbound flight from Manchester to Belfast International Airport while it de-iced its runway. The runway has since reopened.
A number of schools across Northern Ireland have also been closed for the day.
Weather conditions have led to a small number of road closures and traffic delays as well.
Police have said the A1 towards Banbridge, County Down, is closed because of a serious two-vehicle crash.
Cars heading towards the M1 are being diverted onto Blackskull Road, while motorists travelling southbound are being diverted through Dromore.
Keep up-to-date with the latest weather forecast on the BBC News NI website and follow @bbcnitravel for traffic information and road closures.