Derrylin: Ten cows die in cattle truck crash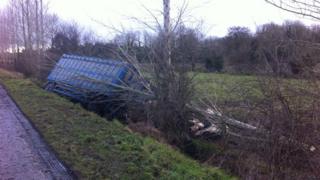 A cattle truck crash in County Fermanagh has resulted in the death of ten cows.
Vets were called to euthanize the injured animals after the crash on the Derrylin Road on Monday morning.
The trailer carrying the cattle left the road between Derrylin and Teemore and crashed into a field.
The police and Department of Agriculture officials are at the scene to investigate the circumstances of the crash.
The trailer was being pulled by a lorry containing more cattle which were unharmed.