Gas to the West scheme set for Enniskillen launch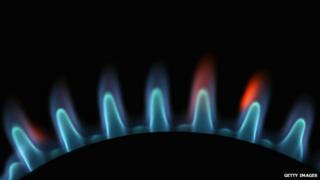 A project to connect around 40,000 homes and businesses to the gas network will be formally launched in Enniskillen on Wednesday.
The Gas to the West scheme will cost around £250m, including a grant of up to £32m from the NI Executive.
The project will be built and operated by Mutual Energy and Scotia Gas Networks (SGN).
Construction work is due to start later this year, with Strabane being the first town connected by late 2016.
A pipeline running from Portadown will be the second phase of the project linking Magherafelt, Cookstown, Coalisland, Dungannon, Omagh and Enniskillen.
The final phase will involve extending the pipeline from Enniskillen to Derrylin.
The construction work is due to be completed by 2017.
It will involve approximately 200km of pipeline linking the towns to the existing network and 500km of gas mains and services within the towns.
Cost
The construction phase should provide work for around 200 people.
Enterprise Minister Arlene Foster said: "This hugely important project will extend the natural gas network to Strabane, Omagh, Enniskillen, Derrylin, Dungannon, Coalisland, Cookstown and Magherafelt.
"It will bring greater energy choice for consumers and increase the potential for businesses and the public sector to use a cleaner more efficient fuel.
"With natural gas being the cleanest burning fossil fuel, extending the gas network will help us achieve our greenhouse gas emissions target."
Mutual Energy already controls the gas pipeline between Scotland and Northern Ireland, while SGN owns networks in Scotland and the south east of England.
Customers can apply for a connection as soon as gas is available in their area.
However, the key issue of how much it will cost is still to be decided.
The companies say they are working with the Utility Regulator to agree a pricing policy.