Wildlife keeper Norman Elder wins USPCA eviction case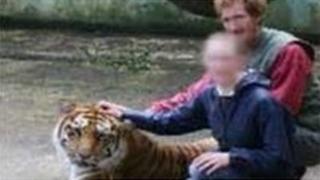 A wildlife keeper has won a High Court victory over being evicted from his animal sanctuary.
Norman Elder ran the sanctuary near Ballymoney, County Antrim, which contained animals including tigers, wolves, snakes, lizards and dogs.
However, he was evicted by the USPCA in 2008 after photographs of visitors stroking a tiger were posted online.
The court ruled that the USPCA's termination of his rental tenancy agreement was not lawful.
USPCA officers, police and the ambulance service all took part in Mr Elder's eviction from the site at Benvarden, where he also lived at the time.
He issued legal proceedings over the charity's entitlement to have him removed, and how and when he was notified of his eviction.
The 51-year-old was awarded costs of the legal action so far, and a further hearing will take place in May to determine the level of damages he should receive.
At the time he was evicted, Mr Elder admitted letting visitors into the tiger's enclosure at the Wildlife NI safari park, but said he had done nothing wrong.
"There is no law against it. There is a safety issue. At the time I felt the tiger was behaving well enough for somebody to go in," he said.