John O'Dowd: Northern Ireland schools could see 1,500 jobs go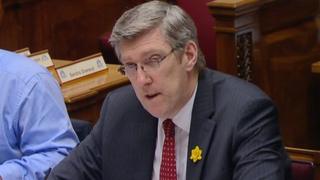 Education Minister John O'Dowd has said schools will likely see 500 job losses for teachers and 1,000 for non-teaching staff due to £28m cuts to his budget.
He made the comments at the education committee where he described the budget as the worst he has had to implement.
However, the minister said it was too early to tell the full impact of the reduction in his budget.
Mr O'Dowd said it would be May or June before he had all the information from schools.
"We have 1,137 schools which will make their individual decisions and the Education Authority will also have to make decisions in regards to its funding lines as well," he said.
"When all that information comes in, and some of it may not be till May or June time, that's when we'll know the definitive figures."
Mr O'Dowd said the teaching of languages in primary schools programme was ending, which he described as a great shame.
He also said the new Education Authority, which begins on 1 April, will face a budget cut of £9.9m and the money would mostly have to be saved through staff reductions.
"As each year passes and you reduce your budget year on year, the decisions you have to make then become more and more difficult," Mr O'Dowd said.
"In terms of preparing this budget, it has been the most difficult budget I have had to prepare in my tenure as education minister.
"I suspect many people around the table would share with me that they would not like to make the choices that have been made here today."