Young blood: Clogher Orange lodge modernises its top ranks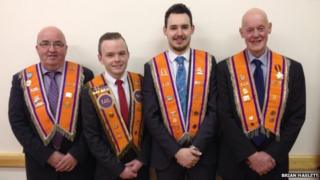 An Orange lodge in County Tyrone is being led by two men believed to be among the youngest ever in the roles.
On Tuesday, Fardross LOL683, in Clogher, installed Jonathan Potter, 25, and Brian Haslett, 21, as deputy master and worshipful master of the lodge.
Brian's birthday falls on 12 July, the day the order celebrates the victory of Protestant William III over his Catholic father-in-law James II at the Battle of the Boyne.
"The day I was born, the Twelfth parade was in Clogher," Brian said.
"My dad paraded that morning when he got the phone call to rush to Omagh Hospital. 12 July 1993 was the only Twelfth parade I ever missed, but I think I had a good excuse!"
Brian and Jonathan said they hoped that by taking on their new roles, they could "encourage more young people to join the institution and communicate the strong, spiritual principles that the Orange Order stands for".
Making history
The Orange Order said it does not keep records of its members' ages and could not confirm that the young men were making history.
However, its director of services, Dr David Hume, said he believed that Mr Haslett and Mr Potter are "certainly two of the youngest members ever" to get the top positions.
DUP Mid Ulster councillor James Shiels said he was installed as deputy master of his lodge in Maghera in 2010, at the tender age of 20.
He is now the lodge's worshipful master.
"I transferred to Maghera from Upperlands when I was 18 because there was a view that anyone under 40 couldn't do office," he said.
"I'm certainly pleased to see more young officers now coming through."