Military deaths in Afghanistan, the soldiers with links to Ireland north and south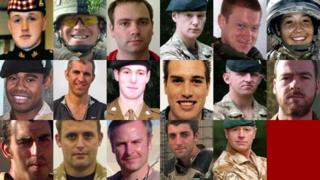 The commemoration at St Paul's Cathedral marks an official closure to combat operations in Afghanistan that began in 2001 and ended in 2014.
During that time nine soldiers from Northern Ireland were killed, eight men and one woman.
Four others from outside Northern Ireland, serving in the Royal Irish Regiment, also died along with three from the Irish Republic serving in other British units.
Hundreds of other Northern Ireland born soldiers, sailors and airmen took part over the 13 years, many as members of reservist medical units based in Belfast, Newtownards and Armagh.
The frontline soldiers were primarily based in Helmand province, where they encountered fierce and constant attack from the Taliban either in direct fire-fights or from deadly hidden improvised explosive devices.
BBC News NI profiles those who were killed.
Sean Binnie, from Dublin, joined the Black Watch and was sent to Musa Qala in 2009.
The 22-year-old was killed on patrol by a single bullet in the middle of a gun battle with insurgents.
Sgt Binnie married his Northern Irish wife six months before his death and was subsequently buried in Northern Ireland.
Soldier killed by single gunshot
Justin James Cupples, 29, joined the Royal Irish Regiment after previous service in the US navy.
He joined the unit because of what he told friends was his "draw to the fighting Irish spirit."
He died in when he was caught in an improvised explosive device blast. His commanding officer said he stood out for his American accent and strong tough character.
Ranger Cupples, from County Cavan in the Republic of Ireland, married his wife Vilma, who is Lithuanian, when they met in Ireland and his body was buried in Lithuania.
MoD names soldier killed by blast
David Dalzell, 20, was on his first tour of Afghanistan after passing out of recruit training with the First Battalion of the Royal Irish Regiment.
Ranger Dalzell, from Bangor, County Down, was known to his friends as Diesel and he was noted for going out of his way to carry the heaviest of equipment in searing heat.
He died in a forward operating base after being accidentally shot by a colleague unloading a weapon.
Soldier was 'shot dead by friend'
Channing Day, 25, was a combat medic with 3 Medical Regiment and was the third UK woman service member to die in the conflict.
Cpl Day, from Comber, County Down, was shot dead by an off duty Afghan policeman as she was on her way to teach first aid to local police officers.
A Royal Marine who was part of the patrol accompanying Cpl Day also died.
Channing played international football for Northern Ireland at youth level and was an NI gymnastics champion.
Two killed in Afghanistan named
Mark Hale, 42, from the Rifles Regiment had been living in Northern Ireland with his wife, Brenda, who subsequently took up a career in politics as an MLA.
Captain Hale was killed while trying to carry a wounded comrade to safety.
He was described by his regiment as having "legendary abilities."
Soldiers died helping colleague
Aaron McCormick, 22, joined the Royal Irish Regiment from school where he had obtained four A-levels.
Ranger McCormick, from Macosquin, County Londonderry, died as he went ahead of a patrol with a detection device to check out a possible booby trap, which subsequently exploded.
His mother, Margaret said it was her belief he deserved to be given a posthumous gallantry award for his bravery.
Afghanistan death soldier named
Stephen McKee, 27, was killed when his vehicle hit an improvised explosive device in the Nad Ali district while serving with the Royal Irish Regiment.
L/cpl McKee, from Banbridge, County Down, had chosen to go to Afghanistan rather than take a UK posting after completing a section commander's course.
He and his younger brother Michael had been in a home service Royal Irish battalion and transferred to the regular unit after it was disbanded.
Michael was with him at the scene of the fatal explosion.
UK soldier dies in Helmand blast
Robert McKibben, 32 from County Mayo, was part of 3 Commando, Royal Marines, and died alongside another marine and an Afghan solider when their patrol was caught in a blast in Gamsir district.
Marine McKibben's family said they had been looking forward to him coming home to Westport for Christmas and described him as having a definite plan for how he wanted to live his life.
Dead Afghanistan marines named
Nigel Moffett, 29, was a member of the Light Dragoons, an armoured unit specialising in reconnaissance into enemy territory ahead of others.
The Belfast man was exceptionally physically fit and had his sights set on getting into the SAS as his next step.
Colleagues described him as charming, funny, tenacious and courageous under fire. He was killed when his vehicle was blown up by a Russian-made landmine, powerful enough to have disabled a battle tank.
His father, Nigel senior, said he remains proud that his son died doing what he wanted to do in serving Queen and country.
UK soldiers die in Afghan blast
David Patton, 38, was a member of the parachute regiment and believed to have been working as part of a special forces unit at the time. He died in a gun battle after a raid to capture four Taliban members.
Originally from Aghadowey in County Londonderry, he was married with a 13 month old daughter, Joanna.
His wife, Paula, wrote of finding a photo of Joanna and her in Capt Patton's returned effects and believes he wrote on the back of it just hours before his death.
Troops died in Taleban gunfight
A number of those who died were killed in incidents when members of Afghan security forces turned on International Security Assistance Force (ISAF) troops.
Neal Turkington, 26, from Craigavon, County Armagh, was killed alongside two others by an Afghan soldier who fired a rocket-propelled grenade into a command centre.
Lt Turkington was an officer serving with the Royal Gurkha Rifles, a regiment he had always wanted to join.
UK soldiers 'unlawfully killed'
Royal Marine Stephen Walker, 42, died was killed in an explosion while on patrol alongside members of the Afghan army.
Known as "Whisky", he had served in the Navy as a chef before passing the Royal Marines' selection course.
His company commander described Cpl Walker as having "a legendary reputation" whose actions had saved other people's lives on a number of occasions. He was married to Leona and had a young son and daughter.
At his inquest a colleague told the coroner that Cpl Walker's last words were: "If anything goes off now my wife will never forgive me."
UK marine killed in Afghanistan
The BBC news website has compiled a complete list of UK military deaths in Afghanistan that you can find here