Karen Walsh did not intend to murder pensioner court told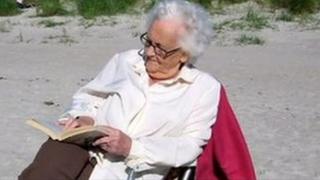 A woman convicted of murdering a pensioner may not have intended to murder her, the Court of Appeal has been told.
Karen Walsh is seeking to overturn her conviction for murdering her neighbour on Christmas Day 2008.
Maire Rankin, 81, was found dead in the bedroom of her Dublin Road home in Newry, Co Down.
Ms Walsh's lawyers claim some injuries could have been inflicted on Ms Rankin during resuscitation attempts.
Opening her bid to clear her name, Ms Walsh's defence contended the trial judge failed to properly direct the jury on other key areas about the time of death, differences in DNA samples, and issues around Ms Walsh's level of intoxication.
The 48-year-old is currently serving a minimum 20-year prison sentence.
She had worked in Dublin but often stayed at a house she owned next door to the victim.
The devout Catholic pensioner suffered up to 15 broken ribs and had been beaten with a crucifix given to her as a wedding gift.
Evidence of a sexual assault - apparently carried out to cover the killer's tracks - was also discovered.
During her trial, the prosecution claimed Ms Walsh arrived at Mrs Rankin's home already drunk and with a bottle of vodka.
It was alleged that the mother-of-one then flew into a rage and attacked the pensioner after being chastised about her drinking and told to go home to her young son.
New evidence
Despite being found guilty of murder Ms Walsh continues to protest her innocence.
A defence barrister confirmed plans to introduce new evidence about phone calls made to Mrs Rankin's home on the night she was killed.
Turning to other grounds of challenge, the barrister claimed the trial judge failed to properly direct the jury on opinion-based evidence from a DNA expert in the case.
He also contended that guidance on the time of death went "far too far" in inviting jurors to dismiss a possible scenario which supported Ms Walsh's version of events.
The barrister told the three appeal court judges: "My client's case has always been that she is completely innocent of this offence."
Taking issue with how the jury had been directed on the perpetrator's plan, he argued: "The intention may have fallen short of an intention to cause serious harm."
The barrister advanced the possibility that whoever attacked Mrs Rankin then tried to revive her.
"The injuries could have been consistent with an attempt to resuscitate," he claimed.
Challenging him on that point, one of the appeal court judges, Lord Justice Gillen asked,: "Someone mysteriously went into the house, attempted to resuscitate her, caused these injuries incidentally and that person hasn't surfaced?"
But the barrister insisted reasonable consideration should have been given to that possibility.
According to his assessment the trial judge had "usurped" the function of the jury on important points at the trial.
The appeal continues.