NI employers being urged to help staff stop smoking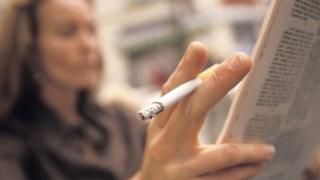 Employers in Northern Ireland should help their staff who smoke to quit, cancer charities have said.
It follows statistics released by the British Heart Foundation (BHF), which found that office workers are more likely to smoke than workers in any other industry in Northern Ireland.
The report said 35% of those working in an office smoke, compared to the NI average rate of 22%.
Second highest were those in the food services industry at 30%.
The BHF said smoking was the primary cause of preventable illness and premature death, accounting for 2,300 deaths in Northern Ireland every year.
Judith West from Cancer Focus Northern Ireland, said employers could reap "enormous benefits" by encouraging staff to quit.
"The benefit is that they have a healthier workforce. They're less likely to require sick absences and also they're not losing their employees over the course of the day for smoking breaks as well," she said.
Lisa Young from the BHF said: "Good health is good business. That's why we want employers to help us tackle these inequalities head on by helping their workers kick the habit for good."