Glenkeen shooting: Two men are shot in the legs in Poleglass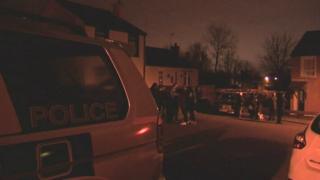 Two men in their 30s have been injured after being shot in the legs in Poleglass on the outskirts of west Belfast.
It happened in the Glenkeen area at about 20:45 GMT on Thursday.
The pair were taken to the Royal Victoria hospital for their injuries.
A spokeswoman for the Belfast Trust said they are both in a stable condition and their injuries are not believed to be life-threatening.
SDLP councillor for the area Brian Heading condemned the attack.
"Unfortunately this seems to be slipping us back to the dark days," he said.
"This is a good, strong, robust community and we do not need people to be carrying out this form of so-called justice.
"There is a demand among the residents to say we don't want this coming back on our streets again, that's what they've said to me, loud and clear."