Patrick Lyttle wants assault charges against brother dropped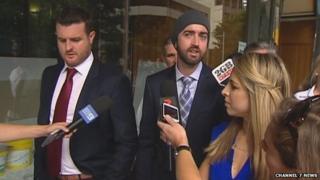 A County Antrim man who was critically injured in Australia when he was allegedly punched by his brother, has called for the charges against him to be dropped.
Patrick Lyttle, aged 31 and from Ballycastle, spent almost a week on life-support after he fell and hit his head in Sydney in January.
His 33-year-old brother Barry Lyttle appeared in a Sydney court on Thursday.
He is charged with assault causing grievous bodily harm.
The court was told that Patrick has no lasting injuries.
However, prosecutors are waiting on a neurosurgeon's report proving he will make a full recovery before deciding on what course of action to take.
Patrick Lyttle said he wanted the charges against his brother dropped so that the family could return home to Northern Ireland.
He said: "We want things to move forward, my brother and I, and for my dad, we need to get home."
Barry Lyttle is on strict bail conditions after being charged with recklessly causing grievous bodily harm.
He said: "We're just hoping that, you know, in a couple of weeks' time this can all get a lot better and we can all go home as a family."
The case was adjourned until later in March.