Harland and Wolff workers' payments held up by error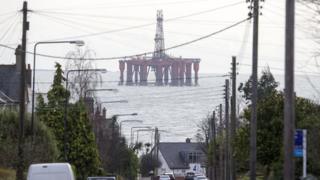 Around 200 workers at Harland and Wolff have not been paid money due to them, because of an administrative error, a union has said.
Some workers are owed hundreds of pounds in flexible shift work payments.
Harland and Wolff said the payments were being processed and would be completed in the next few days.
One man said he and his colleagues working on the Byford Dolphin rig depended on the money, which is paid in addition to their basic wage.
'Angry and frustrated'
"I'm owed four payments, this comes to £448. Some of my colleagues are owed double that. We worked the hours and I can't understand why the shipyard is withholding the payment," he said.
"Many of the workers have families and they need this money to make up their wages so they can pay their mortgage, utility and grocery bills.
"My colleagues are extremely angry and frustrated. At the end of the day we just want paid."
The rig arrived in Belfast in January for repairs.
While the value of the contract has not been disclosed, it is thought to be worth millions of pounds.
The rig underwent previous repairs in Belfast ten years ago.
The Unite union has been negotiating with the shipyard on behalf of the workers.
Davy Thompson, from Unite, said: "Following negotiations with our representatives this morning the company has told us that an administrative error had occurred for flexible shift work payments.
"The company has assured the union that payments will be made over the next two weeks, with the first payment next week."
In a statement, Harland and Wolff Heavy Industries Ltd said it is currently employing more than 1,000 contractors on a major offshore project.
"The company can confirm that all wages and overtime payments are up to date," it said.
"Certain additional shift allowances for a number of contractors are being processed and will be completed within the next few days."