Derry-Londonderry skipper honoured for dramatic sea rescue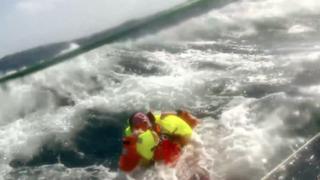 The skipper of the Derry-Londonderry yacht has won an award for helping to save one of his crew who fell overboard during a round the world race.
Sean McCarter, who is from Derry, captained the yacht in the 2013-14 Clipper Round the World Race, and led the dramatic sea rescue.
Crewman Andrew Taylor fell overboard into the Pacific Ocean in March 2014 and was swept away by high winds.
Mr McCarter has been given an award in New York for "outstanding seamanship".
Stormy seas
The skipper was working with Mr Taylor on a sail change near the bow of the yacht, on a leg of the race between China and the US, when the crewman went over the side.
Mr McCarter immediately went back to the helm, stopped the yacht and initiated the man overboard procedure.
The rescue was caught on camera and was reported by ABC America at the time.
Mr Taylor, who is from London, struggled to stay afloat in very stormy seas for about 90 minutes, as the crew tried to keep visual contact with him, before managing to get him back on board.
The crewman was treated for shock and hypothermia after his ordeal.
On Friday night, Mr McCarter was presented with the Rod Stephens Trophy for Outstanding Seamanship at the New York Yacht Club.
The trophy is a large brass telescope, which will stay in the New York Yacht Club, but Mr McCarter was given a smaller version of the award that he gets to keep.